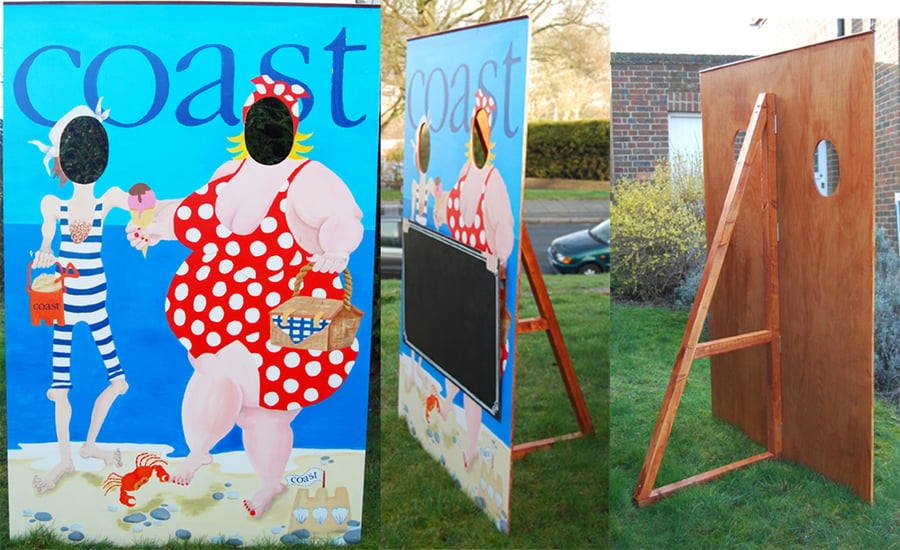 Bespoke Peep Board in any Style / Free Email Consultation
£

450.00
Peep Boards are great for events, especially if you want to get some funny pictures of friends and family.
Shown here is a commission for Coast magazine. The peep board went down a storm, at 6x4 ft this board is great fun for all ages and brought a bit of the British summertime to all.
Here are a few shots of the board and how it is supported. The board has to withstand British weather and so all the wood is treated with wood stain and the image has several layers of matt varnish over to protect it. There is a narrow capping along the top to stop the worst of the rain and small metal feet to raise it off the ground slightly. The hinged 'A' frame means the board will stand independently and can be easily be packed up for storage.
The price is for a 6x4ft Peep board with two characters and head holes. Together we discuss what design you would like which I will draw up and show you before painting begins. The frame and structure will be the same as here. The detachable blackboard is not included.
Please email me to discuss the design you would like on your peep board or any extra requirements you may have - rosieshorter@hotmail.co.uk
Please allow 21 days for production.
Delivery - pick up is an option also if you do want want to pay shipping. Shipping may vary due to destinations within UK.